CMO Council Partners with Australian Marketing Institute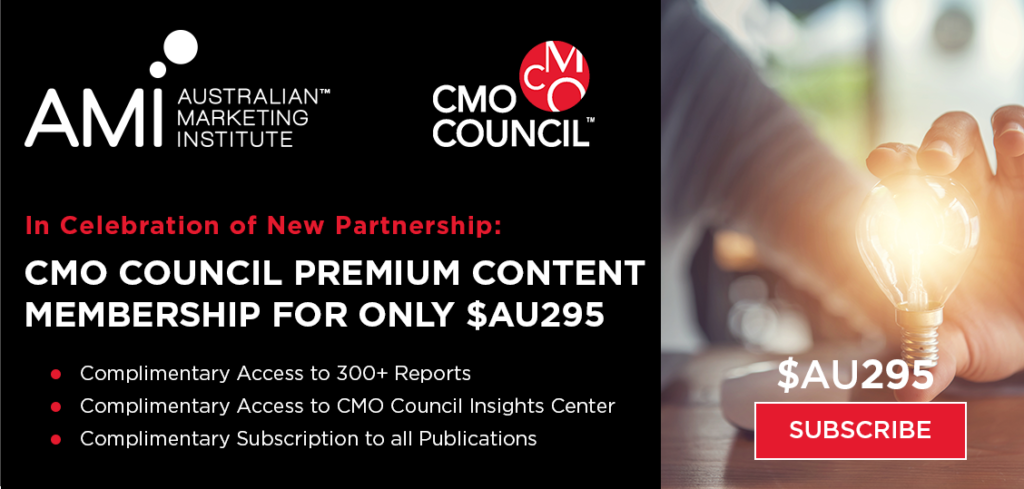 The AMI has negotiated a heavily discounted CMO Council premium content subscription offer for AMI Members with savings of over $AU400. This influential marketing think tank based in the United States curates global market insights and publishes best practice studies, reports and publications. Its 15,000 members in 110 countries control some $500 billion in annual, aggregated marketing spend.
Members are advised to check their emails for the special offer code.
"As the connected world changes the way brands, institutions and governments interact, Australia's marketing sector is experiencing significant demand for new talent, skills and digital marketing capabilities" notes the AMI's CEO, Lee Tonitto. The AMI expects the number of marketing jobs in Australia to exceed 120,000 by 2020.
"We are keen to further the global competitiveness and proficiency of our Certified Practising Marketers. Tapping into the peer-based knowledge and intellectual capital of the CMO Council will contribute significantly to this," she adds. AMI's partnership with the CMO Council will allow the AMI to offer CMO Council content subscriptions, reports and global marketing intelligence services at a reduced price to new and existing members. The CMO Council will also host gatherings in Australian cities, undertake localised research and present new thought leadership with the AMI.
Previous studies undertaken by the CMO Council and Adobe over a three-year period ranked Australia as the most progressive and advanced digital marketing country in the APAC region. Across the four key measures of digital marketing performance – mindset, marketing readiness, organisational alignment and marketing skills – Australia emerged as the clear leader in all four categories. Other countries ranked in the APAC Digital Directions, Strategies, Mandates & Challenges Report included Singapore, Hong Kong, China, South Korea, and India.
"Australia's digital marketing leadership in APAC is a testament to the valuable initiatives spearheaded by the AMI," notes Donovan Neale-May, Executive Director of the CMO Council, which is based in Silicon Valley. "Australian marketers will now have access to new sources of global insight, inspiration and third-party validation. This includes compensation, budget and spend analytics, market trend data, pan-regional facts and stats, branding innovations, next/best practice studies, digital publications, as well as reviews and assessments of new marketing technologies," he adds.
 About the Australian Marketing Institute (AMI)
The purpose of the AMI is to provide cutting edge marketing theory and practice to fuel progress in the careers of marketers. AMI has advanced the marketing profession since 1933, and today is Australia's pre-eminent professional marketing body.
About the Chief Marketing Officer (CMO) Council
The CMO Council is the only global network of executives specifically dedicated to high-level knowledge exchange, thought leadership and personal relationship building among senior corporate marketing leaders and brand decision-makers across a wide range of global industries. The CMO Council's 15,000-plus members control approximately $500 billion in aggregated annual marketing expenditures and run complex, distributed marketing and sales operations worldwide. In total, the CMO Council and its strategic interest communities include more than 65,000 global executives in more than 110 countries covering multiple industries, segments and markets.  Regional chapters and advisory boards are active in the Americas, Europe, Asia-Pacific, Middle East, India and Africa. The council's strategic interest groups include the Coalition to Leverage and Optimize Sales Effectiveness (CLOSE), Brand Inspiration Center, Marketing Supply Chain Institute, Customer Experience Board, Digital Marketing Performance Center, and the GeoBranding Center. More information on the CMO Council is available at www.cmocouncil.org.