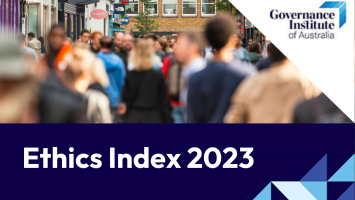 Media Release – Governance Institute of Australia | Ethics Index (governanceinstitute.com.au)
Politicians at all levels of government have seen a significant increase in the public's perception
of their ethical behaviour according to the results of the 2023 Governance Institute of Australia
Ethics Index.

Based on an independent survey conducted by research company Ipsos, the Governance Institute of
Australia's annual report reveals the ethical behaviour of state and federal politicians has been
rated far more positively this year, compared to 2022.
Despite the boost, politicians remain at the lower end of the spectrum in the bottom five
occupations.

Now in its eighth year, the 2023 Ethics Index has seen an overall increase in the Ethics Index
Score from 42 to 45. The importance of ethics in society has risen to an all-time high of 84,
driven in large part by Millennials and Gen X.

Governance Institute CEO Megan Motto said the increase in importance placed on ethics shows
expectations aren't being met.

'The Ethical Expectation Deficit – which is the gap between the value we place on ethical behaviour
and the perception – is growing wider,' Ms Motto said.
'This indicates that there's still plenty of work to do by organisations and individuals, both in
the public and private spheres to ensure good, ethical conduct and a positive culture remain top of
the agenda.'

The rising cost of living, cybersecurity breaches and the increasing use of AI are seen as the top
ethical challenges of 2023 while a First Nations Voice to Parliament is seen as 'somewhat
ethical' overall.

'Despite the overall positive ethics score about the upcoming referendum, 1 in 5 respondents perceived the Voice to Parliament as unethical,' Ms. Motto said.

'Concerns around the use of generative AI and data breaches are clearly playing on the minds of the
public, with an overwhelming majority feeling there is an urgent ethical obligation for companies
to notify customers of all data breaches – not just serious ones,' Ms Motto said.

This year, Governance Institute will be launching the report at Parliament House in Canberra in
conjunction with a new Parliamentary Friends of Governance group co-chaired by Liberal MP Bridget
Archer, Independent MP Zoe Daniel and Labor MP David Smith.

Important contextual analysis of the results has also been provided by an expert panel from across
industry, academia, media and not-for-profit sectors.
Key findings of Ethics Index 2023:
• Importance of ethics reaches all-time index high (84)
• 73% respondents say there's an urgent ethical obligation for customers to be notified at all data breaches
• The maintaining of Stage 3 tax cuts while only delivering a modest increase to the JobSeeker allowance is perceived as somewhat unethical (-27) but breaking an election promise is seen as more unethical (-34)
• Health is rated as the most ethical sector (66) but GPs who don't bulk-bill are seen as somewhat unethical (-26)
• Most ethical occupation: Fire Services (82) followed by Ambulance services (80) and pharmacists (73)
• Least ethical occupation: Real Estate agents (-19)
• Media is the least ethical sector (-9) with Twitter (X), TikTok and Facebook all rated as somewhat unethical.

About the Ethics Index
The Ethics Index is an annual nationwide survey now in its eighth year that examines perceptions of ethical issues and conduct in Australian society. The survey provides a snapshot of what Australians believe to be the most and least ethical occupations, organisations and sectors, plus the top ethical challenges of the future. It measures the population's overall view on how important ethics is to a well- functioning society, the view on the ethical importance of each of the broad sectors of society and the actual perception of ethical behaviour in those same sectors.

Who conducts the survey and when was it conducted?
The independent research is conducted by Ipsos on behalf of the Governance Institute of Australia and surveys 1000 people weighted according to age, gender and location so that it closely represents demographic makeup of the Australian adult population. This year's survey was conducted in June/July 2023.

About the Governance Institute
A national membership association, advocating for a community of more than 43,000 governance and risk management professionals from the listed, unlisted and not-for-profit sectors. Our mission is to drive better governance in all organisations, which will in turn create a stronger, better society.

For interview requests and further information, please contact media@governanceinstitute.com.au or call Antonette Collins, Senior Manager, Media and Communications on 0477 949 604.