My Accidental Career: AMI Emerging Marketers Victoria (EMV) Mentoring Program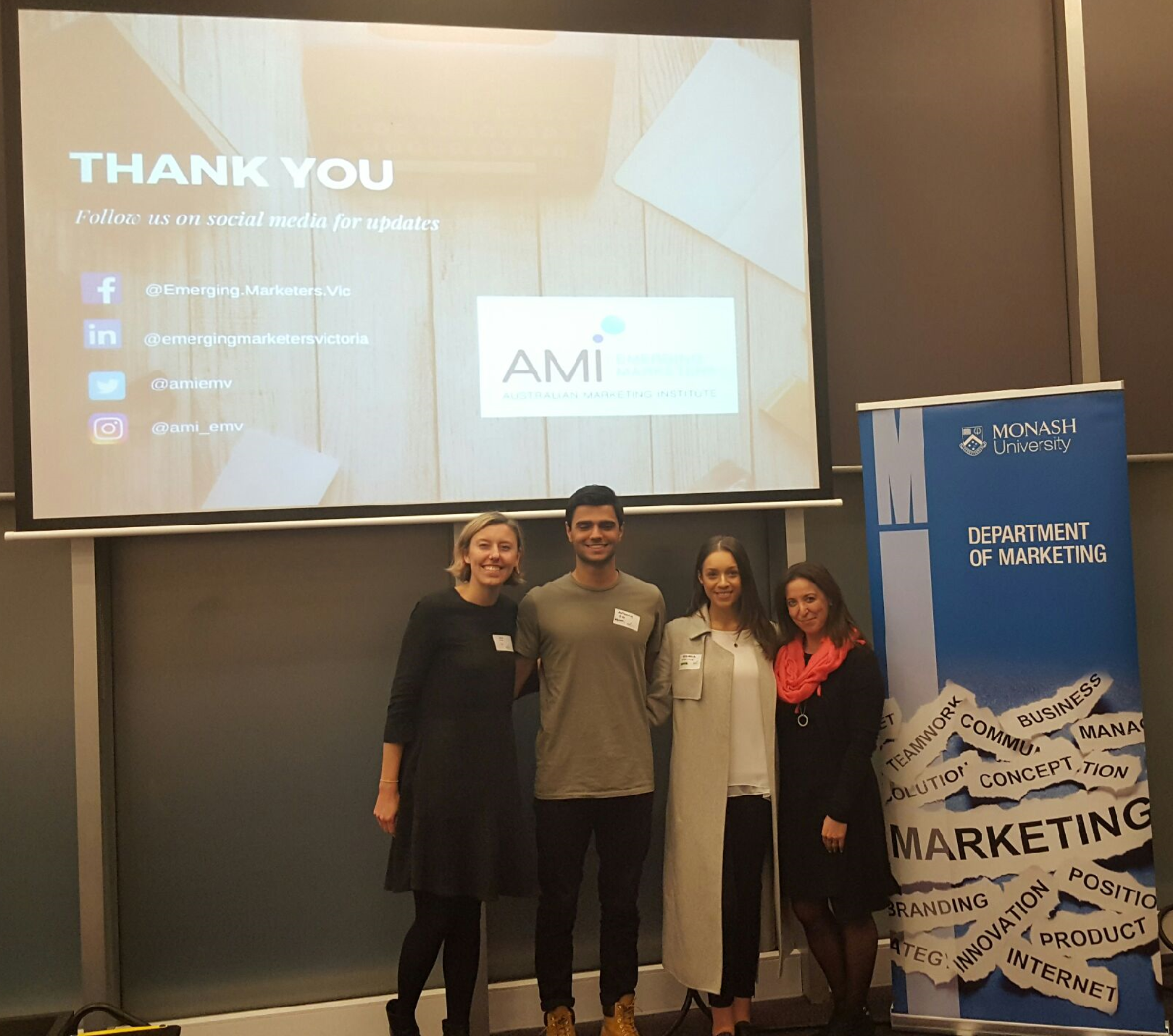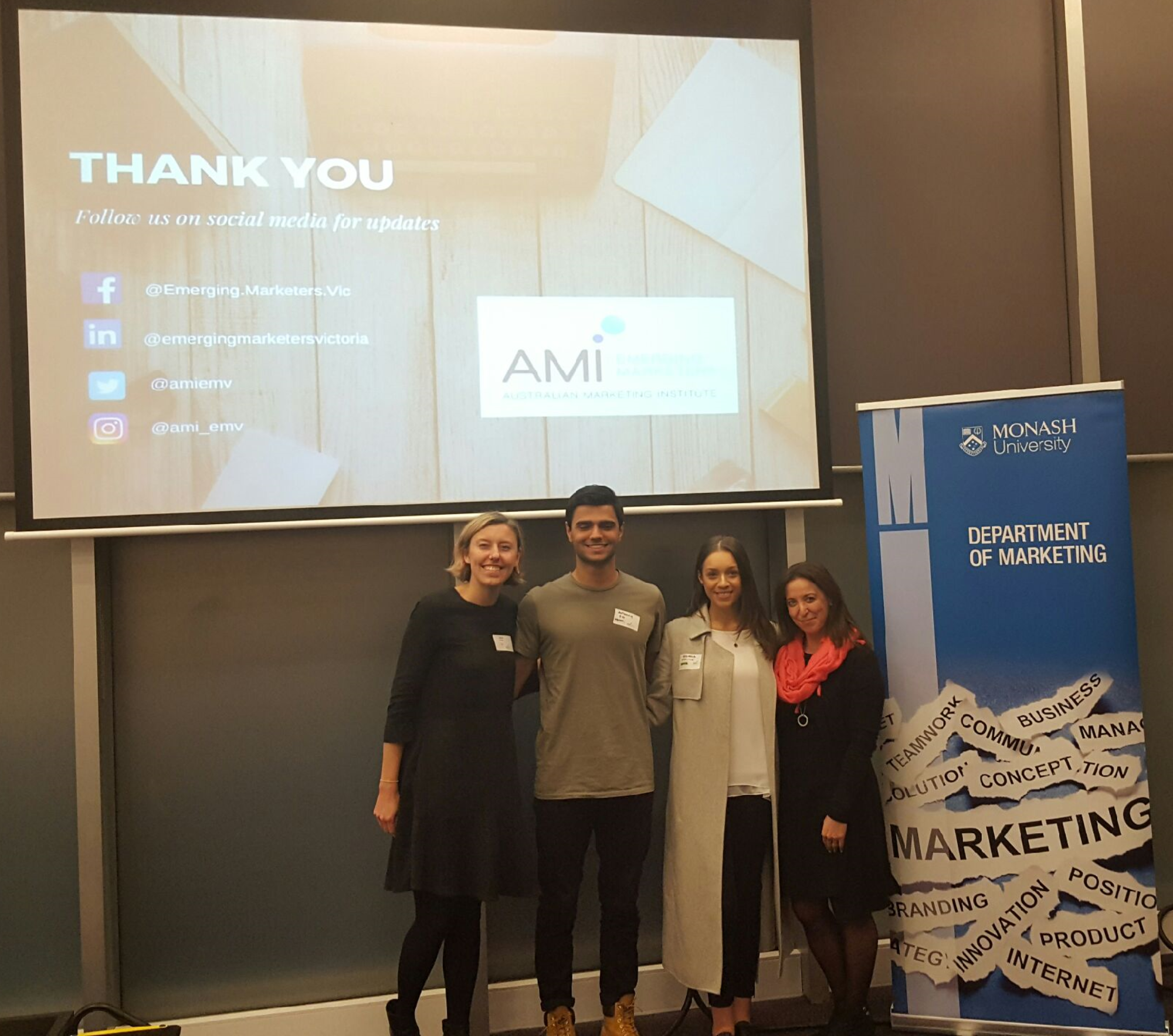 Seventy two mentees and 65 mentors attended the launch of the Australian Marketing Institute (AMI) 2017 Emerging Marketers Victoria Mentoring Program last night at the Monash Law Chambers in Melbourne.
Eager, energised and hungry to launch their marketing career, the mentees soaked up the 2,275 plus years of collective marketing experience that cloaked the room.
… and the quality of this experience:
Vikki Maver (owner of Refresh Marketing) as the Key Note speaker used a marketing lens that captivated the mentees and mentors with her story "My Accidental Career: How I found the perfect niche for me". Humourous, relatable and very, very real Vikki's marketing journey resonated. The story weaved its way into family businesses, through the corporate sector … taking her off-shore and bringing her back again. Thrown into campaign launches, product design and communication … and still unsure of what it was all about, this thing called 'Marketing'. But the stop-overs on her journey shared 3 common interests, the need for:
Creativity
Cut-through
Conviction
… and so Refresh Marketing was registered as a business. Vikki combines these 3 important elements to write marketing and advertising copy for all forms of digital and print media – both above and below the line … and everything in between.
Vikki is still on her journey, enjoying the ride. The destination isn't in-sight, but the Purpose is.
Lachlan Hessing, a digital designer for the Marketing team at communications software firm Whispir, provided rich insight from an EMV mentee's perspective from being a past participant on the program:
As a mentee:
"What is it that you want to learn from your mentor … keep that idea open enough to branch out into areas you didn't expect to touch on. The more you learn, the more you can learn"
"You will be challenged, and that's not to tear holes in what you do, but to build it into something better, in ways you didn't know you could"
"It's not all one-way. Your mentor will likely be looking to learn from you too. Experience covers more than just the professional space, it's personal as well, and almost everyone can benefit from another's experience"
… don't you just wish you had these little gems of advice before you started on your marketing journey!
Jeff Kerr-Bell an Executive Engagement and Business Manager at ANZ, shared his perspective as an experienced EMV mentor. The gentle 'wise counsel' to both mentors and mentees was simply priceless. Wrapping confidence and aspiration together with a touch of uncertainty feed the allure of temptation and possibilities:
"You always know more than you think, and it's hugely rewarding to share it"
"It's never a one way exchange – there is as much to learn as to teach if you have an open mind"
"The program is well organized and provides just the right amount of structure and freedom to ensure, provided you make the effort, that both mentor and Mentee get great valuable long term benefits out of it"
Three different perspective, 3 different experiences and 3 different stories … and this doesn't truly reflect the vibrant atmosphere and sense of anticipation of the night.
The AMI Emerging Marketers Victoria Mentor Program is a great initiative … if only the clock could be wound back and available to those of us who are more than half-way through their journey!
… and as a sponsor, the Department of Marketing (Monash Business School, Monash University) we value the opportunity to be associated with our peak marketing professional body and play an ever so small role in shaping and ensuring the future sustainability of the marketing profession … 'Yes' – AMI, EMV mentors and mentees, our profession and Monash are all winners!