New Directors appointed to the Australian Marketing Institute Board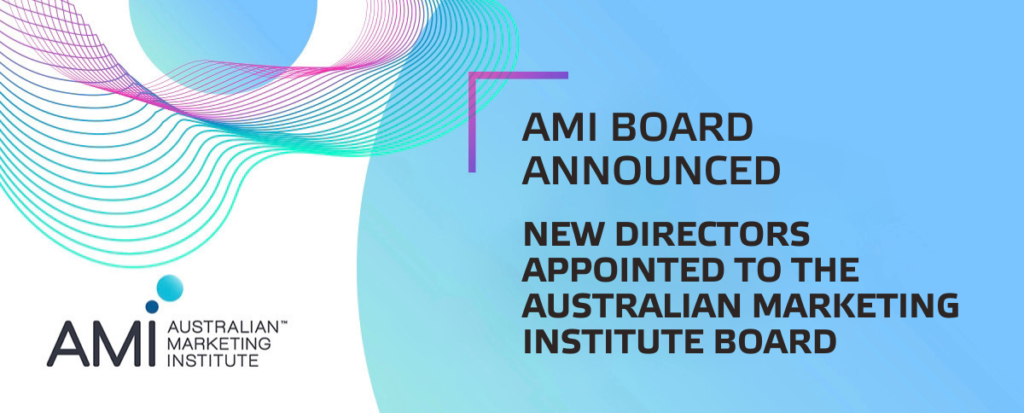 The Australian Marketing Institute (AMI) is pleased to announce the appointment of five elected members to its Board of Directors effective from the conclusion of the Annual General Meeting on 14 October 2021. Congratulations to Maria De Conno, Louise Cummins, Bronwyn Powell, Chris Taylor, and Andrew Thornton who joined Paul Nicolaou and John Kim as incumbent directors. Simon Cheng, John Clay, and Nick Kariotoglou were also appointed as co-opted directors by the AMI Board.
Last month, Lynda Cavalera stepped down as Chair after six years on the AMI Board and handed over the next part of the AMI journey to her fellow directors and the new directors who have joined the Board. The new 10 member Board will appoint a new Chair on 25 November 2021 who will be announced at the 2021 Marketing Excellence Gala.
AMI CEO, CFO and Company Secretary Narendra Prasad said, "I look forward to working with the new Board as we continue along the path of transformation that we have been seen on for the past few years, and a new more focussed business strategy. All directors bring years of experience and industry knowledge to the Board and will provide a meaningful contribution to continue advancing the marketing profession. We exist to progress the professional careers of our members so that our members are paid more, promoted faster and promoted further. The appointments strengthen our position as the pre-eminent marketing body in Australia."
The AMI is grateful for outstanding contributions made to the Australian Marketing profession by Lynda Cavalera, Nicholas Ridis and Mona Lolas, who have completed their terms on the Board. The new elected Directors will serve for a three-year term according to the AMI Constitution, and at the end of their term in 2024, they will be eligible for re-election. The co-opted Directors will serve for a three-year period.
AMI Board members
Her managerial versatility, combined with the commitment to pioneering strategy and passion for innovation, has made Louise an award-winning marketing leader who thinks outside the box – consistently delivering clear and measurable results.
Louise shares knowledge and expertise by acting as a mentor (including within the AMI program), coach, and trainer, both within her company and within the marketing industry. Louise has extended her successes in the corporate world with consultative roles for not-for-profit organisations.
In terms of board education and experience, Louise has completed both Foundations of Directorship and Advanced Not-for-Profit Governance from the Australian Institute of Company Directors, and also served as a board director.
From both her corporate roles as a senior leader and her board roles, Louise has gained extensive governance, business planning, risk management, and financial oversight experience. As a passionate marketer, Louise brings to the AMI board a desire to actively support the AMI's members and the wider organisation to deliver to our collective future goals.
He is committed to the growth of the AMI and has supported that commitment through his actions. During his time on the Board, together with other directors, he has been on a pathway to rebuild and reposition the AMI as the professional body for marketers in Australia. "There have been a number of hurdles to overcome, but we are now on a sound footing to drive sustained growth. It's a journey that we must continue if we are to fulfil our (members) ambitions. I am keen to see the journey through".
Andrew became involved with the AMI because he wanted to give back to the profession that has served him so well. That driver remains with him today. Andrew initially joined the NSW State Committee, before being appointed to the Board (and serving a term as Chair – and now as Deputy Chair). His career spans both corporate experience and as a marketing/business consultant. Andrew has held senior marketing and leadership positions, including CMO and Executive roles, with many of Australia's leading brands, as well as advising clients in regard to sound growth strategies. He is currently the Executive Director of Bridge Street Consulting and a Board Director of Fishburners – Australia's leading start-up hub. Andrew's previous board experience includes The Australian Society for Progress and Wellbeing, ADMA and various advisory bodies.
Based on his experience as a Director, he has learnt that stability at Board level balanced with new and fresh ideas is critical to Board effectiveness. And that diversity improves Board performance. Andrew brings an understanding that the Board is not Management; it's about providing good governance, sound risk and financial management and strategy oversight and guidance (to Management).
Andrew's contribution to the Board spans these considerations but always with a member mindset. He always strives to work constructively with other directors and stakeholders. Andrew brings a passion for the AMI to succeed in its ambitions and to elevate the status of our members.
The environment in which business survives and thrives is ever-changing, and Maria has founded and leads Fig Tree Digital to bring business new opportunities and align themselves with consumers and their needs. On a daily basis, Maria delivers direct to client with leadership and implementation across marketing strategy, branding design, creative direction and graphic design, print and digital, digital – websites and SEO, Email Marketing and copywriting.
Maria has been passionately involved with the Australian Marketing for combined 5 years, part of the South Australian State Committee, followed by the Vice-Chair and the Chair role for 18 months. As a founder and business owner for 13 years with a team of in-house staff, Maria has experience in financial management, and risk management. The establishment of a business from start-up to a wide range of clients across sectors, involves the planning, development of financial goals, achieving those goals and management of business operations. The recent appointment to the Board of the Northern Communities Health Foundation to manage financial deliverables for grants, set up new marketing practices and deliver a healthy future for the delivery of programs and fundraising.
Chris has over 25 years' experience gained across a diverse range of industries including aviation, FMCG, financial services, pharmaceutical, health care, professional services, renewable energy, commercial property, banking, payments and retail.
Chris was recently appointed as Movember's first Chief Experience Officer to establish and lead the Movember Experience Team. The team includes the marketing, customer experience, communications, digital, data and insights teams and enables Movember to deliver its goal to be the leading global voice in Men's health.
In 2018, Chris was appointed to lead the Heart Foundation through a complete review of its marketing resources and activities in early 2018. As Chief Marketing Officer, Chris led his team to deliver the multi award-winning 'Serial Killer' campaign which after only 7-days led the Government to act on heart disease, including Medicare-funded health checks which will directly save more than 9,000 lives and$1.5B in health costs.
At Woolworths, Chris held various roles between 2013 – 2018, including leading Marketing at WooliesX, a team created to deliver experiences that meet the changing nature of how customers shop. Chris and his team developed new ways to connect technology, data and insights to deliver a personalised, connected and convenient shopping experience for customers, both online and in-store.
Prior to this, Chris founded Taylor Consulting, providing marketing strategy support to a range of high-profile consumer brands, start-ups and not-for-profit organisations. Chris also worked at Visa International for eight years across various National and Global brand, sponsorship and marketing roles.
Chris has strong Board Governance experience participating in and managing Board committees providing overall governance, management and strategic direction at the Heart Foundation and several start-up organisations.
Chris has completed an MBA at Macquarie Graduate School of Management, is an Australian Marketing Institute Fellow and regularly gives his time mentoring young Marketers via Marketing Academy and AANA mentoring programs.
She has more than 30 years' experience transforming and positioning for growth, many well-known, iconic global food brands across Fast Moving Consumer Goods (FMCG) to Retail/Quick Service Restaurants (QSR). At the heart of her success has been her ability to develop innovative new concepts, products and communications, and strategies and plans that change businesses. She is a recognised leader for new, brave, disruptive campaigns.
Strategically, her leadership to transform business can be seen in her close to 10 years' experience as Global Marketing Director KFC and Chief Marketing Officer for YUM Brands Canada. Her experience in strategy development and execution extends beyond transformation and growth to customer experience. Her passions are brand purpose and food innovation such as her launch of Abbott's Village Bakery bread and the rejuvenation of the 75-year-old, MasterFoods. Bronwyn is a graduate of the Australian Institute of Company Directors (GAICD) and the University of NSW –Bachelor of Commerce (Marketing). She is a Certified Practising Marketer (CPM) with Australian Marketing Institute (AMI) and sits on the board of the Australian Institute of Food Science and Technology and previously was on the board of the AANA. These board experiences give her great governance, risk and financial capabilities. A lifelong learner, she is a graduate of Columbia Universities' Emeritus Institute of Management with a Digital Diploma and completed the Squared Online/Google course.
Paul sits on the Board of The Gut Foundation, which conducts research & education campaigns on bowel cancer, The Estia Foundation, which provides support services to children with disabilities and as a Non-Executive Board Member of Group Colleges Australia which is a well-established, professional Registered Training Organisation (RTO) that provides support services to educational and associated institutions, such as marketing, financial and technological support services. In addition, Paul sits on the Advisory Board of Southern Cross Group Services and is a Non-Executive Director of Dymocks Children's Charities.
Paul is also an ambassador of Start Up Australia which is an entrepreneur-led not for profit organisation that wants to create a strong Australia for the future, through the creation of more entrepreneurial ventures and a Member of the Association of Independent Schools of NSW Institute which is a high-level think that assists Independent Schools to meet the challenges of a rapidly changing educational environment.
Always staying on the front foot of emerging technologies from early adoption of Cloud computing, Responsive Marketing to Gamification and in turn facilitating our well-known corporate clients to seamlessly transition into competitive positions. He is passionate about flawless engineering to create business strategies and solutions that meet the present challenges yet holds integrity and value in the long term.
At Carnival Australia, Simon helped drive nine consecutive years of double-digit growth for the industry to overtake the US as the most highly penetrated cruise market in the world. Simon has also held senior positions with Qantas Holidays and major global advertising agencies McCann and Singleton, Ogilvy & Mather.

John brings professional marketing and communications expertise and experience to the board with the voice of the customer, customer experience, key account management, crisis communications and digital engagement skills being of particular strengths. In addition, John has strong governance and strategic capabilities that is a prerequisite for any Board roles.
John's board experience spans several years as a member of the Regional Arup Board (eight years), the Australia British Chamber of Commerce Advisory Board (3 years); is a Graduate of the Australian Institute of Company Directors and a Justice of the Peace (JP). During John's tenure at Arup, they developed and implemented programmes to deliver a client-centric approach to the business. This not only supported the growth of the company, it also led to Arup being awarded the Best Professional Services Firm in 2017, as voted by clients. John was also honoured to receive AMI's Certified Marketer of the Year award (2017) and is applying his 25 years' experience in B2B marketing and communications to take on advisory assignments through his private firm www.clayadvisory.com and www.beatonglobal.com.
John is also a Sessional Academic at the Business School at the University of Technology Sydney; teaching undergraduate and postgraduate students enrolled in marketing subjects.
Bachelor of Applied Science (University of Technology Sydney), Graduate Diploma of Management (Deakin University), Master of Business Administration (Deakin University).
Nick has been associated with the Australian Marketing institute for over 20 years and has made an enormous contribution to its sustainability and growth. He specialises in business planning, finance, negotiation, strategic planning, environmental services, remediation, engineering, laboratories and human resources. Nick comes with years of entrepreneurial experience and business acumen.