Roll of honour for AMI's longstanding members – December 2019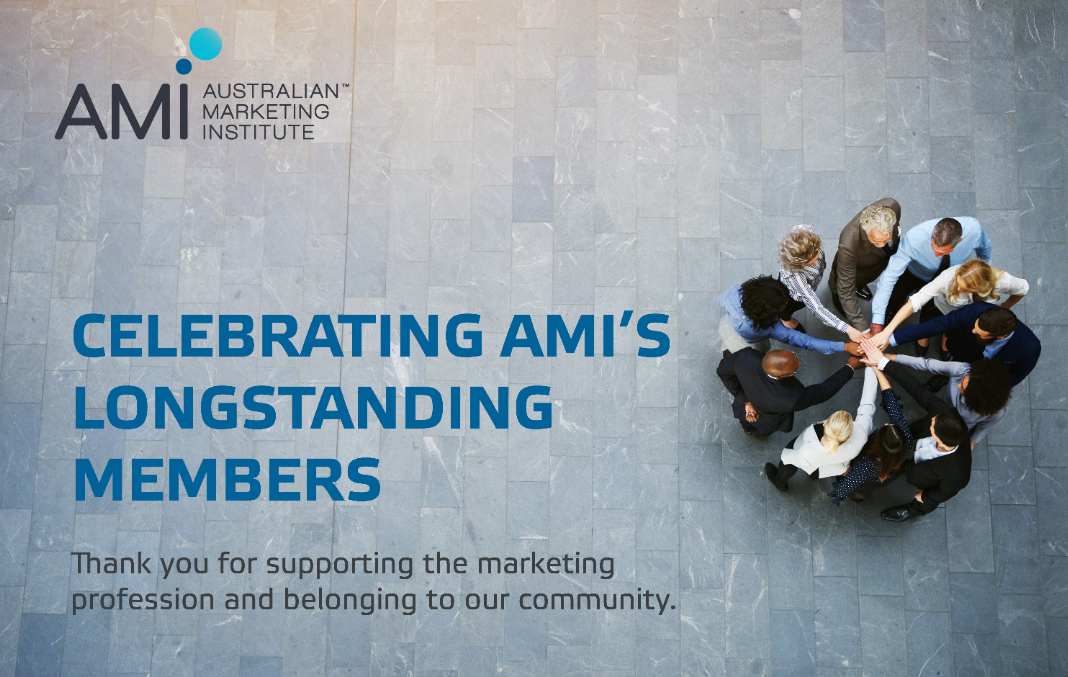 We're proud to build a strong community of marketers who dedicated to their continuing professional growth and we would like to honour longstanding members of the Institute for their ongoing support and contributions!
Below is the list of AMI Members who celebrate  their "milestone" membership anniversary in 2019.  We are thankful to have a strong, growing membership and we'd like to acknowledge those members who have made a commitment to supporting the Institute.
50 years
Dr John Walsh of Brannagh, AMI Fellow CPM, Amicus Confiance Transactionelle, VIC
35 years
George Norris, AMI Fellow CPM, Norris Management Pty Ltd, VIC
Brian Samuel, AMI Fellow CPM, Stafford Ellinson Australia, VIC
Bruce Latham, AMI Fellow CPM, Robert Bosch Australia P/L, VIC
Suzanne Hemsworth, AMI Fellow CPM, Sandar Management Services Pty Ltd, NSW
Leo Pelekies, AMI Fellow, LEP-DESIGN & DRAFTING, VIC
Nick Greiner, AMI Fellow, NSW
Geoffrey Curryer, AMI Fellow, PAX Australia, NSW
Janet Stewart, AMI Fellow CPM, Janet Stewart & Associates, NSW
30 years
Robert Ryan, AMI Fellow CPM, Retired, NSW
Art Lysons, AMI Fellow CPM, 3D Management Systems® Resource Centre, QLD
Brenton Montgomery, AMI Fellow CPM, Retired, SA
Peter Turner, AMI Fellow CPM ,TURNER & GOLD, NSW
Robert Hayden, AMI Fellow CPM, Bridgestone Australia Ltd, SA
Stephen Humphrey, AMI Fellow, VIC
Christopher McGregor, AMI Fellow CPM, McGregor First National, TAS
Tracey Jones, AMI Fellow CPM, Joined Solutions, QLD
Dhammika Kalapuge, AMI Fellow CPM, Eagle NDB Fund Management Co Ltd, Overseas
Phillip Fusco, AMI Fellow CPM, DMI, VIC
Peter Kape, AMI Fellow CPM, Hazledene Marketing, NSW
Scott Nelson, AMI Fellow CPM, SN Advertising Pty Ltd, VIC
25 years
Nicholas Kelly, AMI Fellow CPM, Kelly & Associates, QLD
Paul Haseloff, AMI Fellow CPM, Communication Strategy & Implementation, VIC
Raja Mahendran, AMI Fellow CPM, International Strategic Business Consultant, Overseas
Simon Toovey, AMI Fellow CPM, Commercial and General, SA
Walter Bourdelov, AMI Fellow, Healthscope, QLD
John Lakatos, Associate Member, Acrylog, SA
Malcolm Owens, AMI Fellow CPM, Kubota Australia, VIC
Trevor Barkway, AMI Fellow CPM, Synchro Marketing Australia Pty Limited, NSW
Rabi Krishnaratne, AMI Fellow CPM, Sheroz, NSW
Patrick Freeland-Small, AMI Fellow CPM, P5 Strategic, VIC
Peter Stephenson, AMI Fellow CPM, West 53rd St Digital, NSW
Desmond Paroz, AMI Fellow CPM, Royal Australian Navy, NSW
Peter Young, AMI Fellow CPM, Consulo Advisers, NSW
Michael Mitchell, AMI Fellow CPM, ANZ Mortgage Solutions, VIC
John Fawcett, AMI Fellow CPM, NSW
Janet McColl-Kennedy, AMI Fellow CPM, University of Queensland, QLD
Mark Veyret, AMI Fellow CPM, PriceWaterhouseCoopers, NSW
Brian Hall, AMI Fellow CPM, HBH Consultants, NSW
David Cox, AMI Fellow, Motivforce Marketing & Incentives, NSW
Marco Cicchine, AMI Fellow CPM, IPS Finance Brokers Pty Ltd, WA
Bradford Hanson, AMI Fellow CPM, Government of Victoria, VIC
Anthony Hart, AMI Fellow CPM, Clemenger Tasmania Pty Ltd, TAS
20 years
Jeffrey Paull, AMI Fellow CPM, Baseball Victoria, VIC
John Skinner, AMI Fellow CPM, Synergy Consulting Group Pty Ltd, VIC
Yogesh Shah, AMI Fellow CPM, WA
Colleen Young, AMI Fellow CPM, Immanuel College, SA
Jacki Mitchell, AMI Fellow CPM, Brandstorm Marketing, VIC
Kevin Moreland, AMI Fellow CPM, BCM Group (Australia) Pty Ltd, QLD
Joanne Stone, AMI Fellow CPM, BCM Group (Australia) Pty Ltd, QLD
Craig Heidrich, AMI Fellow CPM, HBM Group Pty Ltd, NSW
Daniel Prior, AMI Fellow CPM, School of Business University of New South Wales, Overseas
Nicki Walsh, AMI Fellow CPM, Blaze Marketing, NSW
Paul Adams, AMI Fellow CPM, Adams Marketing, NSW
Rajeev Kamineni, AMI Fellow CPM, Viksar International, SA
Jim Varghese, AMI Fellow CPM, Springfield Land Corporation, QLD
Monica Reed, AMI Fellow CPM, Brand Manager, NSW
Sharon Harrison, AMI Fellow, Eastern Professional Services Pty Ltd, VIC
Keith Stanley, AMI Fellow CPM, Marketing Express, QLD
15 years
Anthony Coates, AMI Fellow CPM, Queensland Treasury Corporation, QLD
Craig Harding, AMI Fellow CPM, Corporate Communications, TAS
Ming Sum Chan, AMI Fellow CPM, Thyssenkrupp Elevator, Overseas
Mark McCowan, AMI Fellow CPM, Synchro Marketing, NSW
Deirdre Quinn-Allan, AMI Fellow CPM, Deakin University, VIC
Iris Frank, AMI Fellow CPM, Australian Executor Trustees Limited, SA
Alex Christou, AMI Fellow CPM, Thrive Global, VIC
Gill Parssey, AMI Fellow, Facilitate Marketing, TAS
Immacolata Bollella, AMI Fellow CPM, SA Government, SA
Leora Givoni, AMI Fellow CPM, Leora Givoni Marketing Pty Ltd, VIC
Peter Cox, AMI Fellow CPM, Kraft Foods, Overseas
Jo Bailey, AMI Fellow CPM, TAS
Lisa Bradley, AMI Fellow CPM, Hunter Communications, WA
Elizabeth Eades, AMI Fellow CPM, Brand Beagle Pty Ltd, VIC
Jane Miller, AMI Fellow CPM, SA
Sarah Richardson, AMI Fellow CPM, Sarah Richardson Consulting Pty Ltd, NSW
Robyn Rutley, AMI Fellow CPM, Kantar, QLD
Monica Barbuio, AMI Fellow CPM, NSW
Stephen Munnings, AMI Fellow CPM, LGIAsuper, QLD
Tim Heberden, AMI Fellow CPM, Deloitte, NSW
Anita Head, AMI Fellow CPM, University of Adelaide, SA
Michael James, AMI Fellow CPM, QLD
Trish Miller, AMI Fellow CPM, Communique Marketing, WA
10 years
Adrian Pursell, AMI Fellow CPM, Capital Innovation, TAS
Paul Vittles, AMI Fellow CPM, The Vittles Organisation, Overseas
Linda Walsh, AMI Fellow CPM, AVID Property Group, NSW
Julie Proctor, AMI Fellow CPM, Sunny Queen Pty Ltd, QLD
Karen Spiller, AMI Fellow CPM, John Paul College, QLD
Nicole Page, AMI Fellow CPM, 3M Australia, NSW
Linsey MacIntosh, AMI Fellow, Fonterra, VIC
Christiane Ash, AMI Fellow CPM, Ash Marketing and Design, NSW
Joe Papadatos, AMI Fellow CPM, Icon Visual Marketing, NSW
Carol Poole, AMI Fellow CPM, Swoop Digital, VIC
Mark Frost, AMI Fellow CPM, Charles Sturt University, NSW
Jane Carroll, AMI Fellow CPM, Monash University, VIC
Adam Alsbury, AMI Fellow CPM, Bank First, VIC
Alexandria Cantali, AMI Fellow CPM, RTO, NSW
Graham Willcock, AMI Fellow CPM, James Cook University, QLD
Michelle Gamble, AMI Fellow CPM, Marketing Angels, NSW
Laura Bird, AMI Fellow CPM, Fahan School, TAS
Tom Griffiths, AMI Fellow CPM, Royal Automobile Association of SA, SA
Douglas Parr, AMI Fellow CPM, Royal Automobile Association of SA, SA
Demetrios Patrick Hughes, AMI Fellow CPM, 1Up Communications, QLD
Angela Loucaides, AMI Fellow, Ikea Australia, QLD
Mahesh K Enjeti, AMI Fellow CPM, SAI Marketing Counsel and Bubblefish Creative Brand Building, NSW
Grace Taylor, AMI Fellow CPM, Department for Energy and Mining, SA
Yvonne Diab, AMI Fellow CPM, Crosbie Projects, NSW
Jessica Hamilton, AMI Fellow CPM, Australian Trade and Investment Commission, QLD
Natalie Kolody, Associate Member, La Trobe University, VIC
Nicola Lloyd, AMI Fellow CPM, Lloyd Grey Design, QLD
Sarah Zanker, AMI Fellow CPM, Colmar Brunton, SA
Amy Kendall, Associate CPM, SecondBite, VIC
Julie Toma, AMI Fellow CPM, Catholic Healthcare, NSW
Lynda Cavalera, AMI Fellow CPM, VIC
Jacqui Parrish, AMI Fellow CPM, IRT Group, NSW
Paul Blewett, AMI Fellow CPM, Sleep Corp, VIC
Diana Lukich, AMI Fellow CPM, Flying Colours Group Pty Ltd / Leadership Power, NSW
Brooke Young, AMI Fellow CPM, Monash College, VIC
Cade Turner, AMI Fellow CPM, 3M Australia, NSW
Trevor Kerrison, AMI Fellow CPM, Contractor, NSW
Karen Cheng, AMI Fellow CPM, Huawei, NSW
Gillian Sullivan Mort, AMI Fellow CPM, La Trobe University, VIC
Mark Clemow, Associate Member, The Right Mark, SA
Terryll Cassidy, AMI Fellow, NSW
Stacey Corbeski, AMI Fellow CPM, Aster Group, NSW
Brianna Vidal, AMI Fellow CPM, Affinity Marketing, NSW
Natasha Weekes, AMI Fellow CPM, FehuFehu Marketing and Business Development Pty Ltd, NSW
Stuart Leo, AMI Fellow CPM, Blirt! Marketing, QLD
Janice Byrnes, AMI Fellow CPM, Zespr International Australia, NSW
Gareth McSweeney, AMI Fellow CPM, BECA Pty Ltd, VIC
Peter Harris, AMI Fellow CPM, Vision Critical, NSW
Darlene White, AMI Fellow CPM, UniSuper, VIC
Adelyn Yi-ling Siaw, AMI Fellow, Australia Post, VIC
Tony Buckley, AMI Fellow CPM, TWUSUPER, NSW
Russell Lane, AMI Fellow CPM, Cloud9 Consulting, VIC
Debbie Amiradaki, AMI Fellow CPM, 3M Australia, NSW
Samantha Hain, AMI Fellow CPM, Regional Integrated Marketing, NSW
Peter Griffin, AMI Fellow CPM, Real Estate Institute of NSW, NSW
Russell Schrale, AMI Fellow CPM, Cancer Council SA, SA
Robert Vozzo, AMI Fellow CPM, Italia Ceramics, SA
Paul Unerkov, AMI Fellow CPM, Motor Trade Association of SA, SA
Anthony Palmer, AMI Fellow CPM, Kimberly-Clark, NSW
Suzanne Harman, Associate Member, Simplot Australia Pty Ltd, VIC
Mark Peterson, AMI Fellow, TAS
Vincent Xuereb, AMI Fellow CPM, Mapei Australia Pty Ltd, NSW
Paul Scully, AMI Fellow CPM, LeasePlan ANZ, VIC
Greg Maimur, AMI Fellow CPM, LeasePlan ANZ, VIC
David Gaff, AMI Fellow CPM, Collab Agency, VIC
Anthony Smith, AMI Fellow CPM, University of New England, NSW
Karyn Taylor, AMI Fellow CPM Indigo Event and Marketing Services, NSW
Brett Boreham, AMI Fellow CPM, 3M Australia, NSW
Angela Zalizniak, AMI Fellow CPM, Sarina Russo, VIC